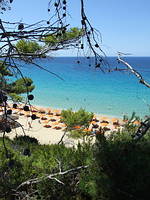 Lassi Reviews
---
Places to Visit
---
Kefalonia Guide
---
Local Directory
---
Resort Guides
---
WalkAbout

Street View Style Tours

+ Enlarge Map
Makris Yialos Studios

(Accommodation in Lassi)

9/10
Andy M
Holiday in July 2011 and its a great place. Kids loved the pool, (So did I by the way) very private and safe.
The rooms are basic but clean.
I looked at previous comments before we set off and hope things would be ok. and they were.
As its only has about 15 appartments great for families. Will be going back i'm sure

10/10
Lizzie F

Anyone who slags off these apartments is silly, had one of the best times ever here!!! felt so at home by Mikis, he is so fun and helpful loves it.

1/10
Lisa H

just got back from staying at the Makris Yialos Apartments.Staying at this place went far beyond a joke. We turned up to find the pool area being rebuilt! There were building equipment, rubble in the bottom of the pool, no pool bar and builders walking around all day.Apparantly they had promised First Choice that everything would be completed before our arrival and promised this during the first three days of our stay- however the word promise does not mean anything to this people. We were without a pool for part of our week stay and had no pool bar or snacks as per advertised by the brochure. The builders staring drilling at 8.00 am!!! We were also told we could have a room to shower in etc before leaving on our last day- but when it came down to it we couldnt find the guy in charge and the only member of staff knew nothing about it. Another false promise. The road noise is tolerable- there's more noise from the supermarket next door which opens early. As for bar noise- WE DIDNT EVEN HAVE A BAR!!!!. The key to the apartment also opens the safety deposit box. However the key also works the electric- so be warned- if you want to get into the safety deposit box at night its a race against time to do it before the lights go out!. The apartments are quite big and they are clean, although you only get 1 towel each for 3 days. Viewing the building work going on while we stayed in this joke of accomodation, i'd say that its probably going to be absolutley lovely..... for the people going next week or after....lucky them.

10/10
Stefan N

I stayed at the Makris Yialos apartments recently and they were brilliant. If you want to have a great holiday and have fun then Makris yialos is the place to go, If you want to be a bore and moan about the slightest little noise then you should really stay at home!

I found the apartments fine and the reps from first choice were brilliant and helpful. Makis who runs the bar is only to pleased to help if it is needed and really makes it a great place to be.

I used the pool everyday and it was fine, so i don't know what the previous person is moaning about????

It has a family atmosphere where children can have fun and adults can relax, exactly what a holiday should be about!!

Angela M

If you are thinking of staying at the Makris Yialos Apartments then.............don't!!!!! We have just returned home from Kefalonia and I can honestly say that these apartments were the worst that we have ever stayed in, in the world. Which is a shame as Kefalonia is a beautiful island and if you stay here for your first trip you would probably never return.

It's true what has been said about the bar - it truly does stay open until the last person leaves - even if that is at 4am - no consideration to other guests. When we stayed there were approx 5 families that had all met up - with all their children, who decided at about 12am to recreate the X factor outside our apartment door. Everyones entitled to a holiday - except those known to this group. Spent most nights putting my children back to bed because of the noise.

Bathroom filthy, air con a rip off 45 Euro per week per room, most rooms are a bed room and living/kitchen area with 2 extra day beds, both rooms have air con units. They charge you per unit =90 euros a week.Rooms only cleaned twice a week. Bar area filthy along with pool, only stayed a week and demanded a transfer.Rep Useless.

Road noise horrendous - First Choice should be done for false advertising.

Please contact me for more info inc. photos.

Angela & Michael March.

10/10
James T

Popped into Makris Yialos apartments bar run by a man called Maki and had one of the best nights on my trip. As long as you are their he will keep the bar open. Great nights entertainment and will defiantely return. if you want to have a great night go to Makis
Mark G
just back from fifth time here (aug 06 ) the sort of place that is ideal for all that Lassi has to offer-beach 5 mins away,minimart 30 secs,all restaurants within 10 min stroll.Within the complex staff always friendly if a touch slow-if you ask Maki to fix anything expect to wait.Pool and gardens always clean and tidy.Atmosphere what you make it while bar is open till last man out there is not any noise if tou want an early night.The rooms are quite basic but you don't want to spend much time in them anyway shame you have to pay extra for air con -45 euros/wk,showers always hot.Already looking forward to next year
Alex S

We went in August absoloutley brilliant, Great atmosphere , friendly place and a fit chef (reina) Maki is a God and should be Prsident of the island he is a right beast i love him and can't wait to go there this year for the sixth time in 2005, Maki is the man , the best place in the WORLD !!! For fun and sun with Maki and the crew.

Graham & jean V

Brilliant!! Chose these apartments as a surprise 60th birthday surprise for my wife. I went looking for a nice but 'cheapie' holiday and thiese apartments excelled all expectations. The staff were really friendly and nothing was too much trouble for them. Apartments had everything you could need and were very clean (bedding changed twice a week - and towels daily if you wanted). Location was perfect with the beach only 200 yards from the back gate - just about 20 steps down to it from the slight slope approach - ideal. Supermarkets next door and enough restaurants within walking distance to choose a different one each night for a month or more. Cheapest tour operator/car hire is Etam Travel - only a few hundred yards towards Agostoli. Would we choose these apartments again? Most certainly!! My wife is still 'swooning' from the two day notice surprise.

Sally & betty M

we absolutely loved it, it was sensational, the views were spectacular. the staff were extremely friendly and welcomed us with open arms. i truly reccomend it as it is so pleasant. the bar man was absolutely adorable! and sally thought he was rather dashing didnt you?! hope everyone else that goes enjoys there stay as much as we did. thanks makris yialos!!! you made our holiday very memorable! love sally and bettyxxx sad to leave!!
Wendy M
we stayed here for a week in june 2004. had a lovely pool, roomss were clean appart from the occational cockroach. everyone who worked there where very friendly and could not do more to help but felt the rooms could be cleaned everyday
Jane B
Hi my husband Brian and I stayed here for a week in June 2004.We had a wonderful time.The appartment was lovely.air con a god send.bar friendly and good service.pool lovely and clean and un crowded .had no problems with hot water or bathing facilities.only moan not much room in bath to have a shower.definitely recommend it to any one singles or families.
Paul & lis H
We had a great time staying at Makris Yialos. It's about 2 minutes from the
nearest (and nicest) beach, and the pool is great. It's a small set of
apartments, which suited us great, and although simple, provided everything
we needed. There is a great bar right next to the pool. The barman Maccy is
a right laugh (lovely joubly you cheeky monkey) and happily served some
cheeky pints well into the small hours. Are both looking forward to our return
:). Have a good time if you are going, P&L xx
Sarah G
P.S - We had no problem with the hot water - it was available first thing in the morning 'til last thing at night.
Sarah G
These apartments have recently be done up, so most things are in good condition. My first surprise was that the bathroom not only had a bath, but the shower was attached to the wall… unlike many Greece apartments! You couldn't ask more from these apartments – with a good swimming pool & bar (open late), shops right next door, restaurants along the same road, and a short walk to the lovely beach. There is air con available at a cost but we found it a lifesaver in our first week. If you are looking for an ideal base for a holiday then go here! (can only be booked through First Choice)
Emma .
Enjoyed the last week in June (2003) at the Makris Yialos apartments. Small, friendly, and clean, no steep hills (!), central location and air conditioning made for some good sleep! Recently had a refurbishment. Only 5 minutes from the beach and the gorgeous sea, but the pool is great if you prefer a pool.
Sarah B
The apartments are basic but all you do is sleep in them so does it really matter. The pool was lovely but cold, although we did go in October! Only a few minutes from the beach and towards one end of Lassi. The bar is nice, so are the staff and if there is someone in there, it is open all night! Hot water only at 10am and 6pm but that is pretty normal for basic apartments.

Julian P
Excellent friendly bar and bar staf, kids loved the pool table, the kittens and the pool BUT ... Lack of running water a major problem. You really needed to stand in the courtyard and shout "I'm about to have a shower - will everyone else please stop showering, filling the kettle or flushing the toilet for 5 minutes". 9 times out of ten it was impossible to take a shower!! Rooms are spartan, which is ok, but dirty. The cleaning staff sweep the rooms between guests but I don't think that detergent has touched the surfaces for months. Lack of air conditioning could be a problem
Can U Help?
Ian W
Has anyone got any information on tne Makris Yialos Apartments. I am taking my family there later this summer, any info would be great. Thanks.
| | |
| --- | --- |
| Search for Makris Yialos Studios in all of JustKefalonia & the Messageboard | |
More Hotels and Apartments in Lassi...

Alexandra Studios | Angelica Apartments | Anna Studios | Antonio Studios | Aris Apartments | Bellavista Apartments | Bouhayer Studios | Despina Studios | Dionysos Village | Eleanna Apartments | Eleftheria Apartments | Emmas Apartments | Enalion Suites | Evans Studios | Fanari Hotel | Galaxy Hotel | Galini Apartments | Gradakia Studios | Grand View Apartments | Hara Apartments | House on the Hill | Irilena Apartments | Irilena Hotel | Irini Studios | Jenny Studios | Jerrys Studios | Katerina Studios | Kekatos Studios | Lassi Apartments | Lassi Hotel | Lefteris Village | Liberatos Village | Limanaki Hotel | Lorenzatos Apartments | Lorenzo Hotel | Lorenzo House Apartments | Lucys Cottage | Makris Yialos Studios | Marianna Studios | Marianthi Apartments | Marillia Villas | Marina 1 Apartments | Marina 11 Apartments | Marinos Apartments | Markatos Apartments | Mediterranee Hotel | Metaxatos Studios | Michalis Apartments | Minas Studios | Nikos Apartments | Nondas Apartments | Olive Garden Apts | Panorama Village | Panos Studios | Pefanis Studios | Platon Studios | Polymnia Apartments | Poseidon-Apollo Aparthotel | Princess Hotel | San Lorenzo | Silo Studios | Simatos Apartments | Sissy Apartments | Spyros Apartments | Stefanos Studios | Terrys Apartments | Thalassa Hotel | Thekia Studio Apartments | Thekla Studios | Tzivras Apartments | Venia | Ventura Rooms | Victoria Apartments | Villa Angelos | Vinaries Studios | White House Apartments | White Rocks Hotel | Yasatis Studios | Yellow House Studios |