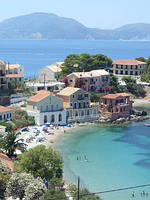 Kefalonia Reviews
---
Places to Visit
---
Kefalonia Guide
---
Local Directory
---
Resort Guides
---
Street View


Assos

(Places to Visit in Assos)

9/10
Colin T
Assos is a beautiful unspoilt village. usual tight corners on way down, but well worth it. beach small and pebbles, shallow water, need your swim shoes.friendly tavernas, great food. biggest shrimp salad ive ever had. didnt visit castle, just chilled on the beach. get there early. can get busy.
10/10
Brian K

Assos is Great , But yu need tu go very early in the Day , as the road down is very very Narrow .... twists & turns ,"Hair Pin" bends hahahaha not tu bad in Jeep .

Ficardo ? ant spel it , is much easyer tu Park ! Both Very Nce !

Will note let me ADD Photo .......... Why

Sort TED it out ....
10/10
Julian F

Been to kefe 3 times now and i just love assos town,beautiful by name beautiful by nature,myself and my 13 yr son for the 1st time made our way up to the castle took us about 35 mins up about 30mins to get back down,the views are breath taking,if i had the money would buy a place here,great!!
10/10
Kate W

We visited Assos...well what can you say? It is BEAUTIFUL. The drive down to the village is pretty..lots of hairpin bends! We walked up to the castle, they are tiling the road so you couldnt take the car- and there is an old car parked across the road at the bottom to stop you anyway!We had lunch at a waterside taverna...absolute bliss. Be prepared to STAND AND DELIVER if you visit the public loo
Pauline S

We walked up to Assos Castle on a really hot afternoon, myself, my husband and two children aged 10 and 6, it was quite an arduous walk but absolutely well worth it just for the views (but do take plenty of water with you). My children made it slowly to the top and was amazed by how much they could see, although the remains of the castle are pretty limited. Back down into Assos in need of a well earned cold drink, the village is beautiful and not totally spoiled by tourism. Definitely well worth a visit

Michael F
The Wife and I travelled all over Kephalonia wich to me is the prettiest island in .Greece. We were told not to miss Fiskardo as it is pretty wich was true but it was also very expensive. On the way back to Argastoli we decided to call into Assos and I,m glad we did ,it is absolutely beautiful. pretty little shingle beaches, a lovely little square with 3or 4 tavernas and a very friendly air about the place.

Next year when we go back to Skala I,m going to take a room for a couple of nights in Assos and just chill out.
10/10
Dave P
Absolutely stunning from above and when you are there - possibly our favourite village for location and views. Food is reasonably priced.
10/10
Jeanette C

Well worth a visit - walk up the old path ( if you've a head for heights!) to the castle, the views are fantastic.We ate at Plantanos and the food was excellent.
10/10
Sam W

so glad we stopped here and had a nice lunch overlooking the small harbour accross the bay from the castle , super little spot
10/10
Alan B
For me this is the best place on the island to visit. A quaint little village with superb waterfront bars to stop for lunch. Anyone going to Kefalonis must give this village a visit.
10/10
Emma M
We have previously been to Kefalonia twice, but for some reason never visited Assos.
We have just returned from our third visit, and decided to go to Assos.
WOW! The village is so quaint and pretty, the waterfront so calm and relaxing, and seemed a million miles away from the bustle of Skala or Fiskardo.
I cant recomend this village enough. Go and have a drink or a bite to eat on the waterfront and sample its beauty.

Dawn H
What a fantastic place...we fell in love immediatley it was just like a picture post card. My mom and I wanted to stay. Its a must place to visit.

Colin P

I'm a castle fan so stomped up to the top with high hopes, only to be slightly dissappointed by the castle aspect of it. It's very overgrown, with bits of stone peeking out here and there.

That said, the views, both from the road and what's left of the castle, are astonishing and I would highly recommend the effort of walking up to it. If you make it to the north end, there's a small ruined round tower. Be careful not to go too far past this, or you will fall off a very large wall ! (Bonus feature - there's a huge old cannon just below the wall.....complete with 1940 graffiti scrawled on it, visible if you've got a pair of binoculars to hand)

Rob P

Loved Assos.

Its a beautiful little place - far better than the much bigger and busier Fiskardo.

The beach is pebbly but sheltered so swimming is safe and easy. The village is small - 2 shops and maybe half a dozen tavernas - but was full of Italians when we were there last week - so whilst not quiet it was still really nice.

We had really good home cooked food at a little taverna up a little cul-de-sac in the centre - not as busy as the more brash waterfront places but quiet with excellent food.

Albert H

Long walk up. Glad we didn't drive up to the castle though, as they'd just had the only storm of the week and it was getting very rutted. It is possible to find walking 'short cuts' to the top as oppsed to the track if you're brave enough and have decent shoes. Castle itself quite disappointing, but good views. Big traffic jam to get out as a coach came right to the end and loads of helpful individuals followed it, blocking the road so no-one could get out to make any room for them to get into the car park ...
Peter & lilu

Assos was lovely. DO NOT DRIVE to the top to see the castle. It's lazy and silly. You miss out all the lovely views on the way to the top. Its a long work but well worth it for the views a long the way. Unfortunately when you reach the top the castle isnt all that. But we did not regret it as it was a lovely walk. You need to be relatively fit though.
Jodie P
Assos is a pretty village to visit for a day or two but a bit quiet as a place to stay. It is in a pretty cove with a nice harbour, very green, pretty and picturesque, with a lot of charm still. There are a couple of nice tavernas on the harbour worth a visit.

John M
We came home 3 weeks ago, our 4th visit to Skala, we drive all over this lovely island and we usually spend at least 2 days in Assos. And we walked up to the castle as usual - having written last year to Holiday Which about the dangerous, thoughtless and selfish advice to drive up! Invalidated car insurance too! We are 73. Snorkelling is great, venture into the cave opposite the village and then follow the rocks along...Assos was the most beautiful village we have ever seen, but what have they done to it? Several ugly apartments right on the skyline not to mention an ugly, large notice advertising the North Beach Cafe! My wife and feel that we have been so lucky to know Assos before this ugly new building. Please don't spoil the village completely.... a huge disappointment to us, we were both so sad. I feel that we may never go back.

Vivien O

Assos was our favourite place. So picturesque. We had a lovely meal in the harbour and then climbed up to the fort. What a hike but worth it for the views. Do not miss it.
John M

We stayed in Kefalonia for 2 weeks in July 2005. We explored almost the whole island from our base in Skala, but Assos was definitely the nicest place we visited. On that day we visited Fiskardo also, which was OK but rather disappointing as we had great expectations. Then went to Assos which is defintely better - more picturesque, but not pretentious. Had a nice meal overlooking teh delightful bay which was not overpriced. Also nearer to Myrtos beach which should not be missed.
Sally P

Really nice place to go and visit, wild drive down to it but worth it, the little blue bar/restaurant right at the end of the quay is cheap and tradional... the walk up to the 'fort' is a trek and it's just the wall really (I thought it would be a ruin) but a great walk for stunning views (take plenty of water)
Katie E

We love visiting Assos on our visits to Kefalonia. The approach to it is beautiful as you see it on the road driving along from Myrtos beach. The village itself is so pretty and quiet and this year we walked up to the castle and enjoyed the views from the top. We had a lovely lunch at Nefeli overlooking the harbour after coming back down from the castle.
David B

Only the suicidal contemplate driving up to the castle, but the views from there are superb and its an interesting place to pootle around. Assos Town is a must in the evening.
Graham G

Very nice quiet location
Paul K
It's a great place to stop for lunch & not expensive. Have fun feeding the fish with your bread while you wait View from the castle is excellent.
| | |
| --- | --- |
| Search for Assos in all of JustKefalonia & the Messageboard | |
More Places to Visit on Kefalonia...

Archeological Museum of Argostoli | Argostoli | Assos | Corgialeneion Historical and Folk Art Museum | Cyclopean Walls | Drakaina Cave (Poros) | Drogorati Caves | Lakovatis Mansion (Lixouri) | Melissani lake | Natural History Museum | St Georges Castle |